Alaska is the last great American frontier. The state is so isolated and so large that there are still many unexplored and untraveled regions. There are few roads and most travel into the heart of the state is via float plane. Denali National Park makes a great first trip to the land of the midnight sun. Planning is fairly straightforward and travel is simple enough.
Fly into Anchorage, and make sure that you have some time to check out the city and grab a bite to eat before the 4 hour drive to the McKinley Chalet Resort for your first night. If you are interested in doing some white water rafting, Explore Denali will take you on a great trip.
For your second day make sure to get to the Backcountry Information Center right when they open at 9 am. Due to the nature of the park and changing conditions, there are no advance permit reservations. The ranger on duty will show you what is available during your stay and work with you to plan a great trip. The whole process takes about an hour and includes the usual safety video and paperwork. Bear canisters are required, but the park loans them out for free. Fifteen minute (1 inch =1 mile) USGS quad maps are available for purchase from the BIC once you plan your trip. The ranger will also explain the bus system within the park- there is one road that travels through the park and private vehicles are not allowed. Enter the backcountry is as simple as asking the driver to stop in your zone and then hopping off the bus and hiking into the wilderness. There are no backcountry trails in Denali.
For our trip we hiked up onto the Polychrome Glacier. It was an amazing area with a lot of wildlife and stunning views. As we were there in late June, the sun never truly set. It was 24 hours of daylight, a truly surreal experience! Hiking along the permafrost taiga was very exhausting. The ground is spongy and you waste a lot of energy bouncing around with every step. Some areas are very overgrown with bushes and other growth making travel difficult. We tried to stick close to the rivers where the ground is rockier and easier to walk along. Of course this is also where the wildlife tends to be so stay alert for grizzly bears! Denali is a truly wild park with no trails or bridges. Come prepared and you will have an incredible time!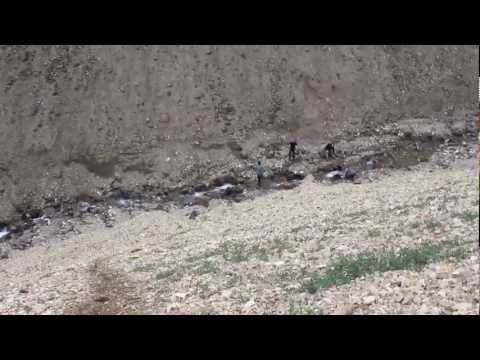 Comments
comments